About Us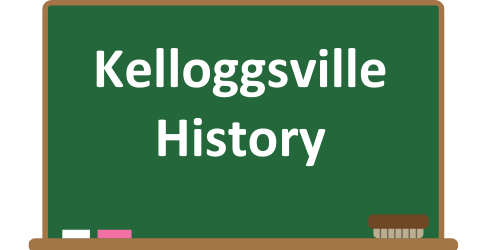 Humble Beginnings 1856-1919
Humble Beginnings
In 1859, after Francis Kellogg received a land grant, Kelloggsville's first one-room schoolhouse was built. In 1882, a similar school replaced the original structure after a fire destroyed the building. Later in 1907, due to an increase in population, a second room was added to the school.
During WWI, there was a decline in attendance due to a picric acid plant being built in the area. Explosives for the war were to be developed in the plant. Many students quit school to help build the plant. Half of the school was closed and it again became a one-room schoolhouse. The second room was used for events in the community such as social gatherings, spell downs, sewing bees, and community singing. The "home folk" also welcomed outsiders to join in the festivities.
Francis William Kellogg - Founder of Kelloggsville
Francis William Kellogg was born on May 30, 1810, in Worthington, Massachusetts. In 1855, Mr. Kellogg engaged in the lumber business in Paris Township, Michigan. On September 12, 1858, Mr. Kellogg was issued a land grant to build a one-room schoolhouse. This school was designated to be Fractional District Number Eight. Mr. Kellogg was later a member of the Michigan State House of Representatives and continued in politics for many years.
He also served as a Colonel with the Union Army in the Civil War. He passed away on January 13, 1879. He is buried in the Fulton Street Cemetery in Grand Rapids, Michigan.
James Keeney - First School Teacher
The first known School teacher at Kelloggsville was Mr. James Keeney. Born in Canada in 1840, Mr Keeney and his family moved to Grand Rapids, MI when he was 12 years old. He obtained his elementary education at Knapp Avenue School. At the age of 16, he quit school and took an examination from the school board, the only requirement for teaching in those days, and started on his vocation.
He was paid twenty dollars a month and had free room and board. The responsibility of his room and board was divided equally among the parents of the students.
Mr. Keeney was a teacher at Kelloggsville when the Civil War broke out. In 1862, he enlisted in the 126th Division of the engineers and mechanics. He was honorably discharged after being injured. Years later, on November 30, 1920, he passed away. He will forever be remembered as a hero for his country, a booster for education, and the first teacher at Kelloggsville.
"Along a dusty plank road through the forest of pines, comes a stagecoach drawn by a pair of sprightly, well-groomed horses. As the coach passes on, the passengers hear the shouts and cries of small children playing near a small, one-room schoolhouse. Now and then, an Indian wigwam is seen. The shrieking sounds of the saws as the logs are cut into pieces attracts the attention of the passengers in the coach. The sound comes from a small sawmill nearby. The stagecoach stops at the Kelloggsville Hotel, and the driver, wearing a tall, fur plug hat, springs from his high seat to assist the passengers into the hotel. Here they will remain overnight, for this hotel is the only stopping place between Kalamazoo and Grand Rapids, their destination."
Beacon Lights of Kelloggsville - 1937
Between the Wars 1920-1949
From Sticks to Bricks
In 1923, the two-room schoolhouse was sold at auction and Kelloggsville built its first brick building. It consisted of two classrooms. The area continued to grow, and in 1925, Kelloggsville changed from a primary school to a graded school and four more rooms were added. By 1927, the structure at 4779 South Division was completed after adding eight more classrooms. In 1936, the first High School was built at 23 Jean Street. Kelloggsville had its first twelfth-grade graduation in 1938.
The late 30's also brought about the first sports teams at the school. Football, basketball, and baseball were the first sports. Kelloggsville celebrated many successful seasons through the late 1940s winning several championships in the Barkenall League with Mr. Russell Formsma coaching almost every sport for many years.
John Tynan -First Superintendent
Superintendent 1925-1945
John Tynan wore many hats at Kelloggsville. He was a teacher, principal, coach and the first superintendent. In the 1920's, it was not uncommon for administrators to perform multiple roles at the same time. It was said that Mr. Tynan often wandered the halls of the school, peeking in on the students and teachers. He was said to have had a kind heart, a sense of humor and a great passion for the students and the future of the school. He had many dreams for Kelloggsville and its growth. His dream became a reality when in 1936, a new High School was built at 23 Jean Street.
In his tenure, Mr. Tynan hired over seventy-five teachers. He retired in 1945.
World War II
World War II was a very impactful time for the Kelloggsville School district and community. Many students put their books away, left their families and friends behind, to answer our nation's call to serve. During this time, sports, school trips, and many other activities were canceled. By 1944, over 200 Kelloggsville students had gone off to war. Many of these classmates were to never return home. To them, we can not give enough thanks for the bravery and sacrifice they and their families made. Kelloggsville will always remember them.
Russell Formsma
Superintendent 1949-1968
Russell Formsma served the Kelloggsville School district for 37 years, starting his career in 1931. He was a teacher, coach, principal and Superintendent and was also instrumental in the organization and development of the OK Conference. In 1949, the football field was named Russell Formsma Field in his honor.
In 1940, the Century yearbook was dedicated to him with these words,
"We the seniors, dedicate this 1940 volume of the Century to our principal and coach, Mr. Formsma, who has proven himself a true pioneer in the building up of our student activities and athletics association. We respect his counsel, appreciate his friendly cooperation with us in our activities and admire his success in promoting the welfare of Kelloggsville. His constant desire to assist has uplifted and inspired many a troubled student. His patience, sportsmanship, and quiet manner will long be remembered by us. Truly it can be said of him that he knows his task and does it well. With all sincerity, we say thank you for making our school days pleasant."

Growth Leads to New Buildings
In the late 1940s, Kelloggsville experienced tremendous growth. In 1950, Two new elementary buildings were constructed to relieve the crowded conditions that had existed for several years. With the support of the community and a successful bond proposal, East and West Elementary was built. By 1954, two additional buildings were added; Northwest and Southwest elementary. The growth continued and an addition at the High School was needed by the mid-'50s. A new gymnasium, several science classrooms, a home economics room, and a shop room were added. A five-room addition took place at West Elementary. A $700,000 bond proposal was passed making all of this possible. Southeast Elementary followed in 1964, completing the addition of five new elementary buildings and additions to the High School.
Kelloggsville Vision Statement
All students of Kelloggsville Public Schools will become productive citizens equipped with a global perspective and the skills to meet their full potential.
Kelloggsville Mission Statement
Kelloggsville Public Schools will embrace and model a community that values diversity, learning, caring, and respect.
Kelloggsville Belief Statements
All students and staff of Kelloggsville Public Schools will be:
valued, respected, and supported in achieving their maximum potential.

provided with a safe and secure learning environment.

held to high learning and behavior expectations.

guided in becoming self-directed, lifelong learners.
Collaboration, communication, and mutual respect between families and schools are critical to student success.