Counseling
Phone: 616-532-1593
Fax: 616-532-3733
Welcome to

KHS

Counseling!
We are happy to be back and working with students. We are excited to help make 2020-2021 a successful and fulfilling year for our students.
Announcements
Credit Recovery
The deadline to complete your Credit Recovery courses is December 11, 2020, at 3:00 p.m. (Enrollment for first semester Credit Recovery is now closed. Another opportunity to enroll in Credit Recovery will be available in January 2021.)
9th Graders & Launch U:
If you are interested in participating in Launch U, an Early Middle College program at Kent ISD and GRCC, please plan on participating in the Launch U Lowdown Zoom on Monday, November 16 from 7:00-8:00 p.m. Click the link provided to view the flyer for this program and/or visit http://LaunchU.kentisd.org.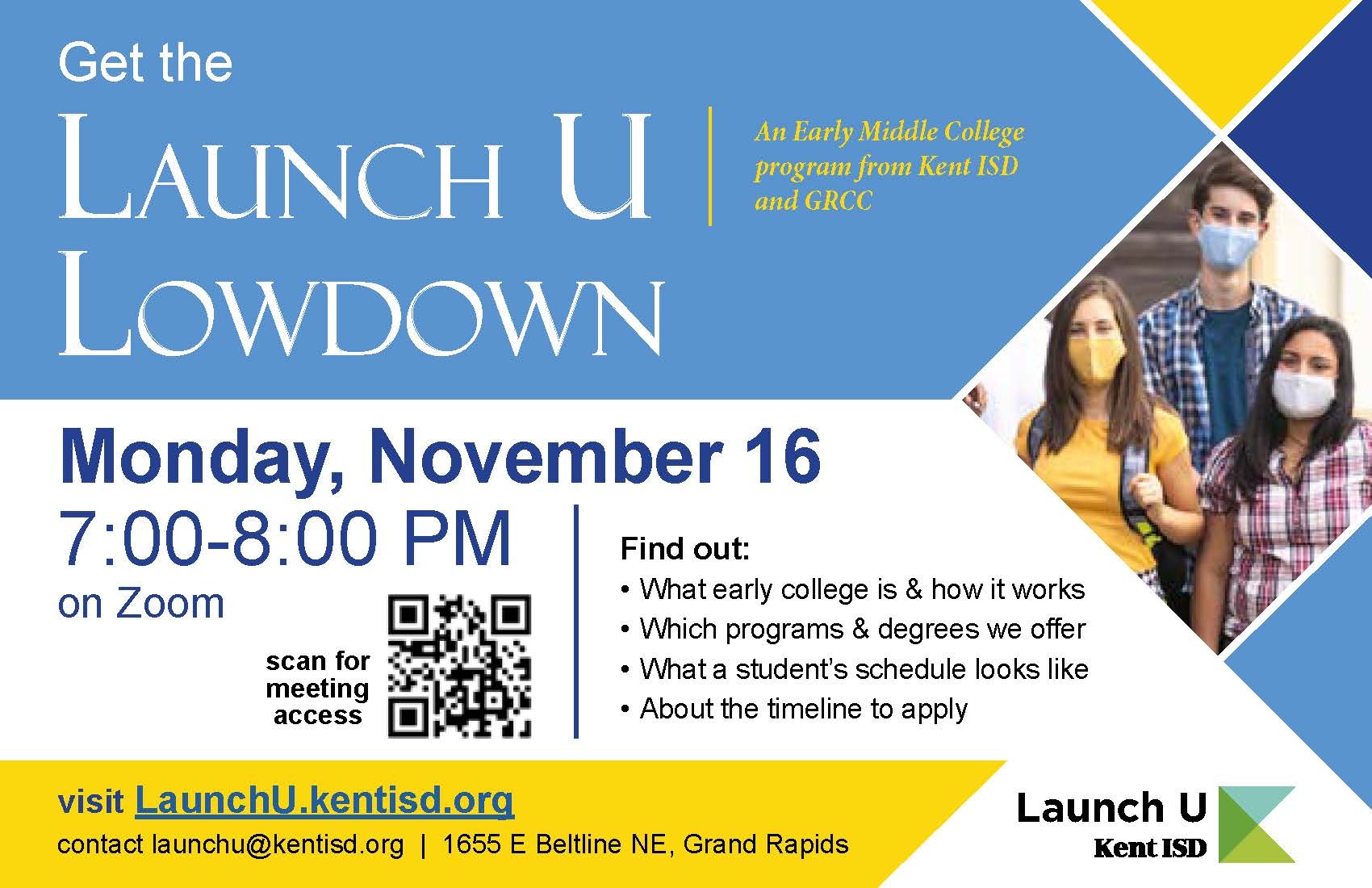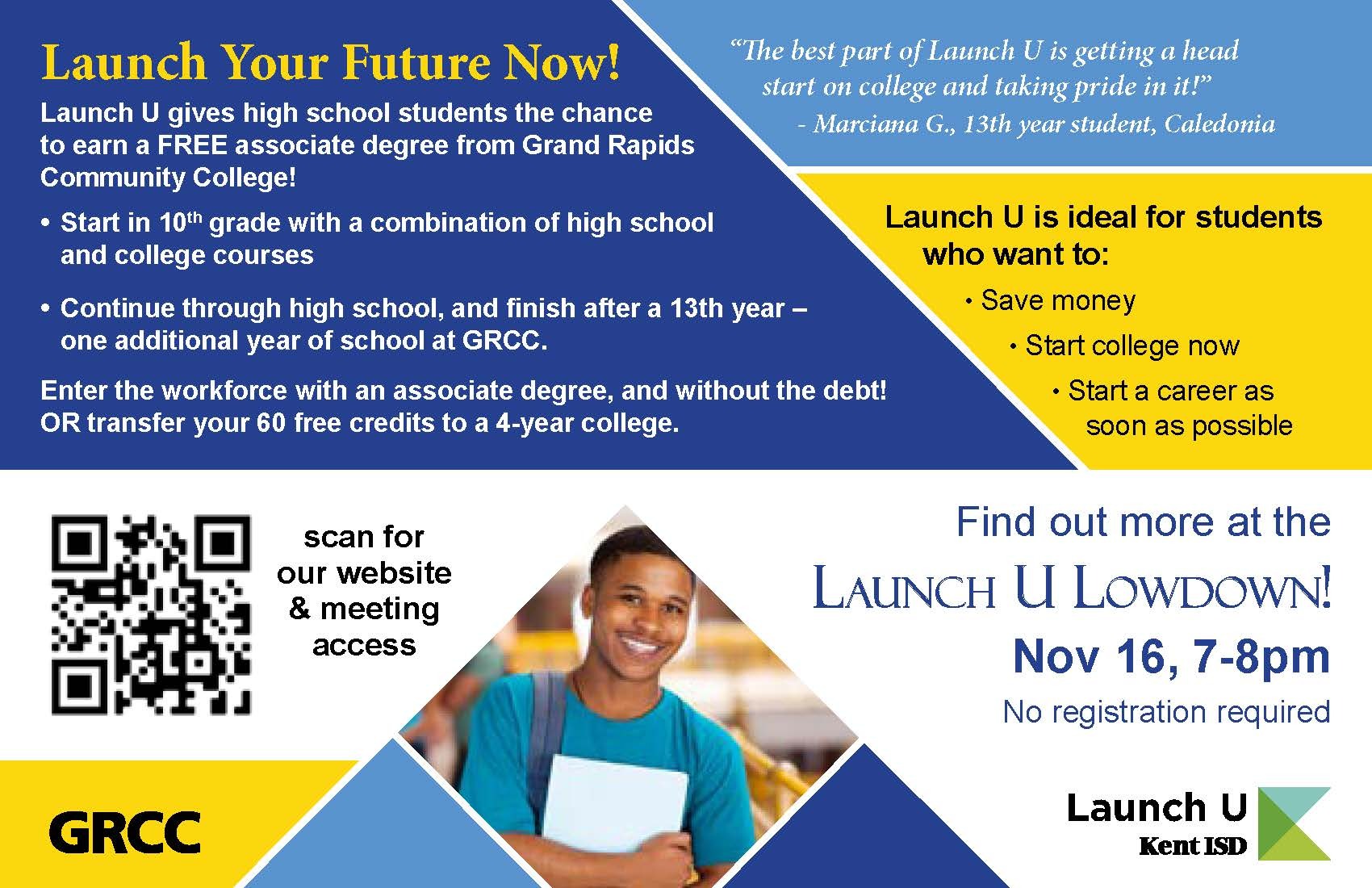 CAREER PREP SERIES: Landing the Job You Want
Looking for ways to get your students excited about research, writing & communication skills? Hoping to more tangibly "connect the dots" between content and their future? Have your class join us LIVE during National Career Development Week as we chat with industry professionals about the following topics. Students can get answers to their questions directly from the pros. Lessons and resources will also be provided after each session for further extension. Register now for one (or all) of these events either as a class, group or individual. Also, invite your remote/online students!
Monday, Nov. 16, 2020 – 1:00-1:30 PM
Goal Setting: Amy Pierce-Danders, E3 Consulting
Tuesday, Nov. 17, 2020 – 1:00-1:30 PM
Job Searching 101 – Alex Ruedger, Feyen Zylstra
Wednesday, Nov. 18, 2020 – 1:00-1:30 PM
Networking – Sue Barsoum, 20 Monroe Live
Thursday, Nov. 19, 2020 – 1:00-1:30 PM
Resume-building – Jenny Redes, Custom Profile
Friday, Nov. 20, 2020 – 1:00-1:30 PM
Interviewing – Fabiola Dussia, Hutchinson
What We Do:
The counseling office staff is committed to supporting all KHS students as they work toward success in academics, post-secondary planning, and in their social/emotional well-being. The goal of KHS counselors is to support, guide, and direct students as they navigate various high school experiences, and to help prepare them for a successful, fulfilling life after graduation.
Academics:
School counselors meet with students individually and in a classroom setting to discuss academic goals and various post-secondary options. Academic plans are developed based on a student's career preferences, Educational Development Plan (EDP) results, and academic performance. School counselors emphasize the importance of consistent attendance, the development of effective study habits, responsible time-management, and successfully passing classes in order to graduate in four years.
Post-Secondary Planning:
School counselors help students plan for a successful life after high school by exploring various post-secondary options. College and university representatives visit KHS and meet with students throughout the first semester. Students who are interested in vocational training typically meet with both the counselor and the KHS School-to-Work Coordinator to explore job training opportunities and vocational school options. Military recruiters from each branch also visit the school and meet with interested students throughout the year.
Social/Emotional:
School counselors are available to support students with personal issues with which they may be struggling; however, these services are time-limited. If deemed necessary, counselors will make referrals to professional counseling organizations with student and parent consent. Small group counseling is also offered during the school day (on a weekly basis, for six to eight weeks). The goal of small group counseling is to help students learn coping skills and gain support from others who struggle with similar issues. Topics of focus range from anxiety, depression, anger management, grief and loss, stress, healthy relationships, and more.
All counseling offered in the KHS counseling office is confidential. Confidentiality is maintained unless a student threatens to harm him/herself, or discloses that he/she plans to harm another individual, or shares that he/she is being harmed or exploited illegally.
Graduation Requirements
| | |
| --- | --- |
| Math | = 4 Credits |
| English | = 4 Credits |
| Science | = 3 Credits |
| Social Studies | = 3 Credits |
| Health & P.E.* | =.5 Credits Each |
| Electives | = 4 Credits |
| World Language** | = 2 Credits |
| Fine Art** | = 1 Credit |
| | |
* P.E. waivers for Marching Band & Athletics accepted when the student has played for the organization for two seasons (Due to COVID-19, P.E. waivers will not be granted for 2020-2021 Fall Semester)
** Students can complete (1) World Language credit & (2) Fine Art credits to fulfill requirements.
Career Readiness Resources
Kent ISD's TALK AND TOUR SERIES
A career exploration program designed to increase awareness of diverse careers available in high demand career sectors.
Due to COVID-19 and the continued uncertainty, we are pivoting to a virtual Talk & Tour format. Below is the list of current events. Our local employers continue to book dates, so please check back.
Through an informal "talk show style" format, a virtual panel of professionals in select industries will share their own career path, the inside scoop on what their jobs are really like, along with their perspective on what you can do to prepare for a career that interests you. This is your chance to ask questions (through the chat feature), get valuable career information and take an action step in figuring out your own career direction. A virtual tour of the host site may be provided, with a special focus on seeing the latest technology and innovation happening in the workplace. A variety of industries and occupations will be highlighted. Parents/guardians are encouraged to participate.
Click on this link for specific series, dates, and registration details: https://www.kentisd.org/educators/career-readiness/students/programs/talk--tour-career-series/
Course Curriculum Guide for 2020-2021 School Year
Early Graduation Information
Any student who has completed all graduation requirements by a date earlier than his/her designated class must submit a request in writing (signed by a parent if the student is under the age of 18) to the principal to graduate at the earlier date. The request must be completed by/on the last Friday of September during Junior/Senior year.
The principal will review the request to ensure all conditions for graduation are met (see Early Graduation Document Options 1-4 on the form). A letter will be issued in lieu of the regular diploma attesting to the student's early completion of graduation requirements. A diploma will be available to the student after the scheduled commencement date. The student may opt to return and participate in regular graduation ceremonies with his/her designated class or completion year class in late spring. In addition, once all requirements are deemed to be complete, it is recognized that the student has completed high school and will no longer attend. Seniors who complete credit requirements by the end of the first semester of their senior year, can complete their senior year with administration approval. Early graduation forms are available in the counseling office.
Seal of Biliteracy
The Michigan Seal of Biliteracy is presented to students who have demonstrated proficiency in the English language, as well as in at least one other language. This seal benefits students if they attend a post-secondary institution or if they enter the workforce. Qualifying students may take the assessment in the spring of their senior year. Click on the link below to learn more about the criteria needed to be eligible to apply.
State of Michigan Biliteracy Brochure--English
State of Michigan Biliteracy Brochure--Spanish
Academic Support
GVSU K-12 Connect Virtual Tutoring is a free virtual, one-on-one tutoring service that uses the Zoom platform to work with students. This service will be available beginning on Monday, October 5, 2020. For more information, visit the website provided and follow the directions to register your child. https://www.gvsu.edu/k12connect/k-12-connect-virtual-tutoring-2.htm
Khan Academy is a free online service that offers support in several core subjects. Students have a quick link on the Clever homepage of their chromebooks. Visit Khan Academy by clicking the link provided. https://www.khanacademy.org
Meet with a School Counselor