Enrollment
Welcome to Kelloggsville Public Schools!
We are excited to share our community with you while providing your students with a well-rounded education!
Student Online Enrollment for 2021
We are excited to announce our new Online Re-enrollment Process! For the 21-22 school year, our district will return to in-person classes only. We hope you find this new process quick and easy. You can start the process by clicking the Pre-Registration Application below. We will have a couple of building switches for 21-22, so if you are unsure which school to choose, please rest assured we will ensure your student is enrolled in their correct building.
We know that changing the enrollment process can be difficult. Our Technology Director created step-by-step videos to help assist in the new process! We do ask that all (returning & new families) use the same process.
If you are concerned about your student returning to in-person classes, due to COVID, or you would prefer your student to be a 21-22 virtual student, please contact Ms. Travis at 616-538-7460 for your Virtual School option. You can find more details of this new program on our website at www.kvilleps.org/schools/virtual.
First Step of Online Enrollment
The first step is to pre-register for enrollment through Kelloggsville Enrollment Express.
Please note that due to summer hours, your pre-registration may be delayed. We will be checking applications every Monday morning.
You may also want to gather your student's documents that you will need while working on the enrollment process. You can either upload as part of the online enrollment process or bring them to the building(s) you are enrolling your student(s) and we can make a photocopy for our records. The majority of these documents are for new students.
Birth Certificate (issued by the county where your child(

ren

) was born, with a raised seal)
Immunization Records
Proof of Residency (i.e. utility bill, property tax statement, house buy/sell agreement, rental/lease agreement) **Please note that if your address has changed since last school year, we will need new copies of your proof of residency**
Photo ID (of parent/guardian enrolling student)
Copy of IEP (if special services are required)
Copy of Transcript (grades 9-12 only)
Kindergarten and Young Fives Only:

Photo of Student
Health Appraisal (signed by Doctor, dated within 12 months)
Hearing and Vision Screening Results
Second Step of Online Enrollment: Creating & Verifying PowerSchool Parent Account
Below are the videos going through the creation of your parent PowerSchool account. You will receive an email at the end of the account creation process that will ask you to verify your account (you'll just have to click a link). And then you can move onto Step 3!
Third Step of Online Enrollment: Filling the Forms
Once you have completed the enrollment process, your student's building will reach out to you regarding your enrollment and start date.
2021-2022 Preschool Enrollment
Kelloggsville PS is in partnership with the Great Start Readiness Program (GSRP) for preschool students! GSRP is a state-funded free preschool program for qualifying four-year old children. Children must be 4-years-old by September 1st, 2021.
Families can register online at: https://preschool.kentisd.org/apply or by calling 616-447-2409
2021-22 Schools of Choice Program
The 2021-22 Kelloggsville Public Schools application window is now open!
2021-22 School of Choice Application
The application webpage also has all of the details regarding this program. For questions or additional information, please contact:
Beth Postma
bpostma@kvilleps.org
(616) 538-7460
Are you a Kelloggsville resident?
Below is our district map that shows our 4.5 mile square mile radius boundaries. Our district boundaries are within both the cities of Kentwood and Wyoming, which can make locating your school district challenging.
You can also check your address with the Kent County Property Search.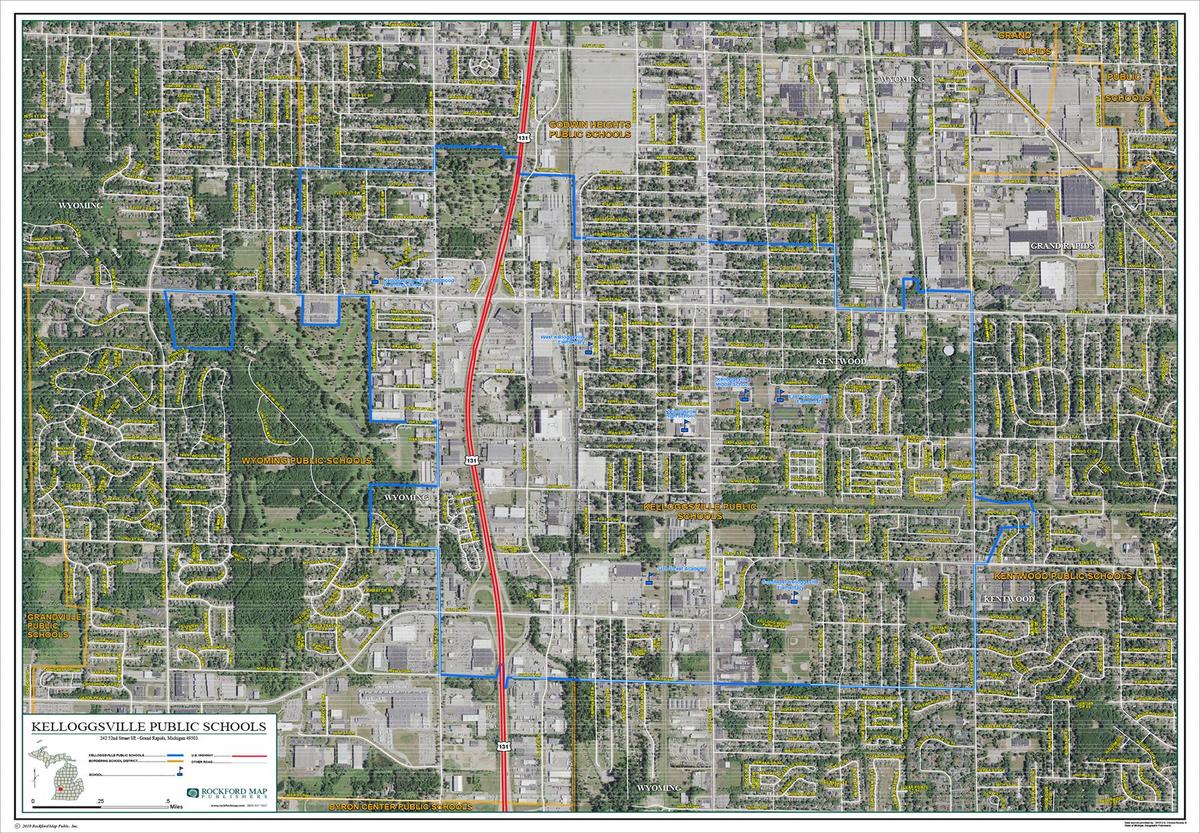 New Student Enrollment
We are currently working on updating our New Student enrollment to an online process. At this time, please reach out to the below building to begin your student's enrollment at KV!
616-532-1585
616-532-1580
616-532-1595
616-532-1590
616-532-1575
616-532-1570
616-531-7433
Kelloggsville Virtual School
We are launching the Kelloggsville Virtual School for the 2020-2021 school year!
Switching between virtual and in-person learning has shown that more educational options need to be made available to our community for all grade levels.
We have been working on making changes to our virtual education from the 2020-2021 school year and are excited to launch Kelloggsville Virtual School! Head to our virtual office for more information!
KECLC
At Kelloggsville Early Childhood Learning Center, we are able to offer preschool (through the Great Start Readiness Program), special education, and various other programs. You can find out more information at our KECLC webpage.
Elementary Schools
During Fall 2021, we will be opening Central Kelloggsville! This is our brand new 3rd, 4th, and 5th-grade building!
Young 5's, kindergartners-2nd grade students will be at Southeast & West Kelloggsville. Your student's school during these grades will be based on the location of your residence.
Kelloggsville Middle School
All students in grades 6th-8th will attend KMS.
Kelloggsville High School
Students in grades 9th-12th who are on track with their credits will be placed at KHS.
54th Street Academy
Students in grades 9th-12th who would benefit from our credit recovery-based program maybe be placed at 54th Street Academy