Enrollment
Welcome to Kelloggsville Public Schools!
We are excited to share our community with you while providing your students with a well-rounded education!
Thank you to everyone who attended our 2023 Rocket Registration event!
If you are a returning family that was not able to attend our registration event, please call your building to schedule a time that you can visit the office to meet with a member of the front office staff to complete your students' paperwork for the 2023 school year.
If you are a new family to Kelloggsville that was not able to attend our registration event, please follow the link to our New Students web page.
Are you a Kelloggsville resident?
Below is our district map that shows our 4.5 mile square mile radius boundaries. Our district boundaries are within both the cities of Kentwood and Wyoming, which can make locating your school district challenging.
You can also check your address with the Kent County Property Search.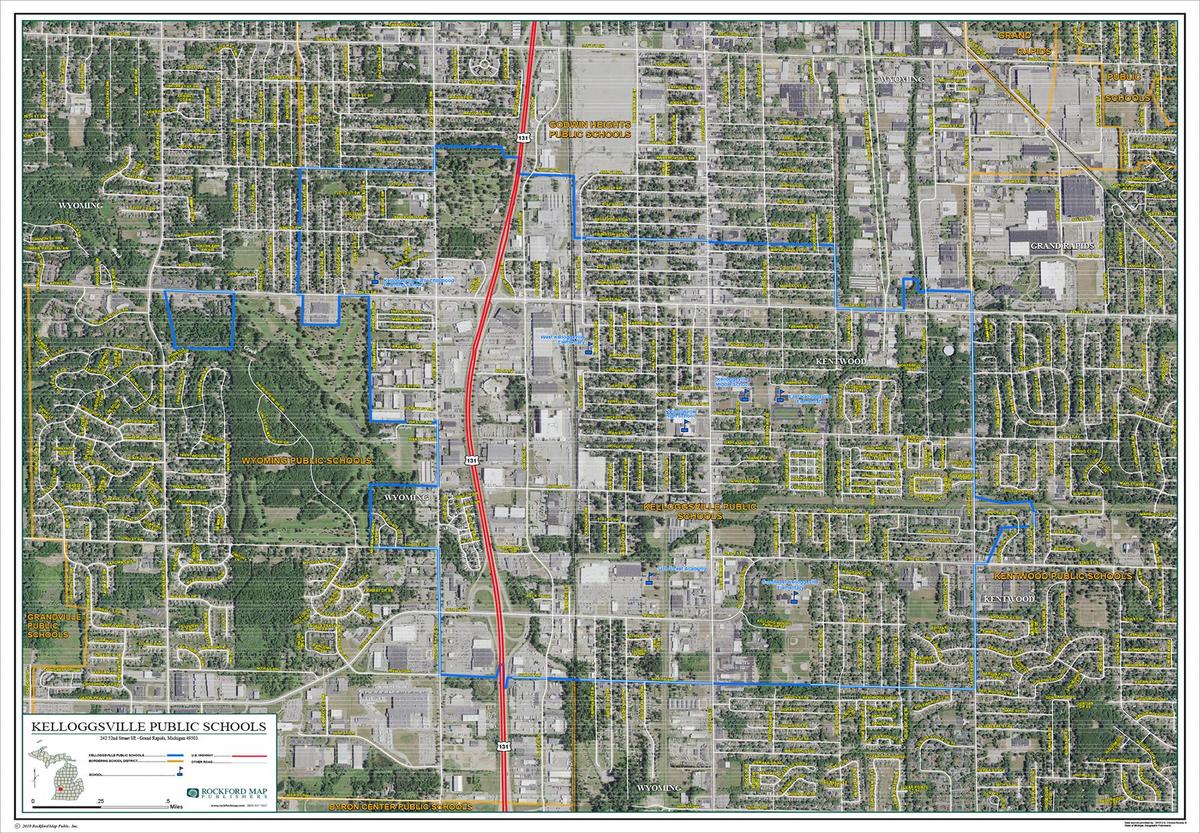 2023-24 Preschool Enrollment
Kelloggsville PS is in partnership with the Great Start Readiness Program (GSRP) for preschool students! GSRP is a state-funded free preschool program for qualifying four-year-old children. Children must be 4 years old by September 1st, 2023.
Families can register online at: https://preschool.kentisd.org/apply or by calling 616-447-2409
Kelloggsville Virtual School
Kelloggsville Virtual School is an online option for students in grades 6th through 12th grade taught by local Kelloggsville teachers! KVS webpage has all of the information on this program and the application for this program.
KECLC
At Kelloggsville Early Childhood Learning Center, we are able to offer preschool (through the Great Start Readiness Program), special education, and various other programs.
Elementary Schools
Young 5's, kindergarten-2nd grade students will be at Southeast & West Kelloggsville. Your student's school during these grades will be based on the location of your residence.
3rd through 5th grade is held at our newest building, Central Kelloggsville Elementary.
Kelloggsville Middle School
All students in grades 6th-8th will attend KMS.
Kelloggsville High School
Students in grades 9-12 who are on track with their credits will be placed at KHS.
54th Street Academy
Students in grades 9th-12th who would benefit from our credit recovery-based program maybe be placed at 54th Street Academy