Food Service
Online Student Grab & Go Meals
Online Students who have elected for the Grab & Go Meals can pick those up:
Monday & Thursday 10 am-11 am
KHS; Parking Lot off of Jean Street
The Monday pickup will be breakfasts & lunches for the first half of the week. The Thursday pickup will be breakfasts & lunches for the second half of the week.
Fall 2020 COVID Updates
Understanding the coming school year is going to be different in ways we have never experienced before, our goal is to make mealtime as easy as possible. No matter where meals are served, we are still going to serve foods kids love to eat and do everything we can to keep mealtime as a time for students to recharge and enjoy a sense of happiness.
Whether it's serving meals in a new location or adapting cafeteria operations to allow for physical distancing, our plan features new service models and enhanced safety procedures. Each of our models has been tailored to the individual needs of each school.
All elementary schools will have meal service in the classroom.
All secondary schools will have a cafeteria meal service utilizing social distancing.
Safety remains our top priority. Students, staff, and parents can have peace of mind knowing that our plans are rooted in the most stringent health and safety practices aligned with federal and state regulations, along with local health department recommendations.
Be assured that your kitchen staff will undergo health screenings before each workday and follow strict guidelines for glove, mask, and physical distancing protocols. These enhanced cleaning and sanitation measures help assure the safest environments possible.
Despite an evolving situation, one thing that won't change is our commitment to keeping mealtime a safe, happy, and healthy experience for all our students.
Community Eligibility Provision (
CEP

)

We are pleased to inform you that Kelloggsville Public Schools will again be participating in an option available to schools as part of the National School Lunch and School Breakfast Program called the Community Eligibility Provision (CEP) for the 2020-2021 school year! This means breakfast and lunch will be free for all students.
What does my student's meal look like?
What can my child expect at mealtime? meals will be a combo which includes a protein item, whole grain item, 100% fruit juice, fresh or canned fruit juice, green salad and other fresh vegetables, and milk. In order for your child to receive these meals free of charge, your child's meal will have:
One serving of fresh vegetables, fruits, or fruit juice
A protein item (i.e.: chicken, hamburger)
A whole-grain item (i.e.: dinner roll, bun, pizza crust)
1% white milk or chocolate milk (provided by Country Dairy in New Era, MI)
Eating foods from each of the food groups is the only way to ensure students are receiving all essential nutrients.
Start your day right with breakfast!
Mornings can be stressful! The alarm doesn't go off, your students don't want to get up, and there is no time to eat breakfast before the bus comes. Maybe your teenager grabs a can of pop and a candy bar on the way to school.
If this sounds like your house, we have great news for you! Breakfast is available for FREE FOR ALL STUDENTS at school. Take advantage of this option to ensure your child eats a nutritious breakfast. Recent studies show a link between nutrition and learning. A nutritious breakfast helps students be more alert so they can actively participate in class. Breakfast has vitamins and nutrients for a strong and healthy body.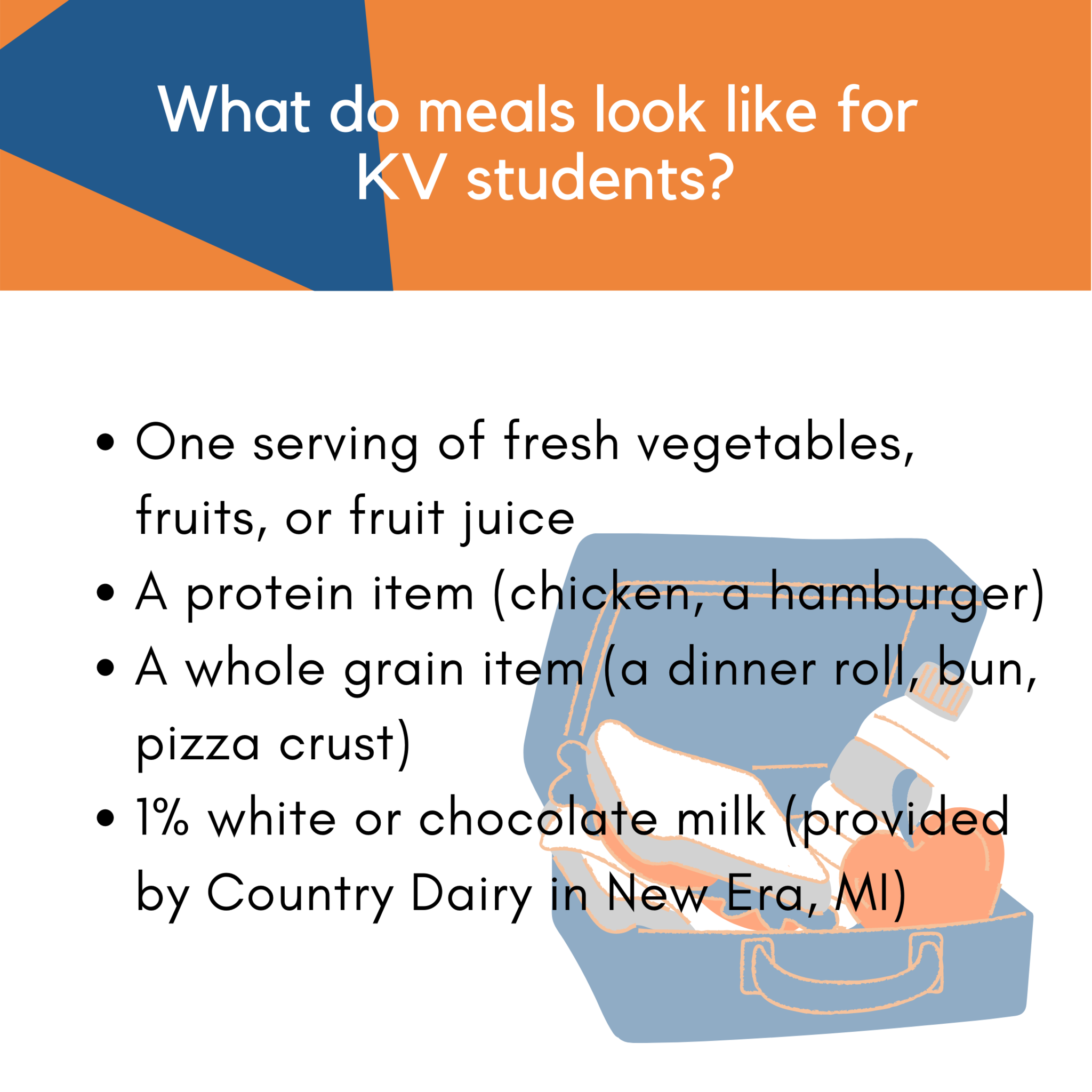 Contact Info
4787 S. Division Ave. SW
Grand Rapids, MI 49548
Phone: 616-532-1576
Fax: 616-532-3750